On the Mother's day Sunday the group of lovecycling ventured into the PCNs in the west. PCN in the west? I had a hard time imagine how it would like because I've never cycle on a PCN in the west so far!
Starting from the Tampenis cycling town and is now spread to surrounding Parsir Ris, Bedok and even Siglap, the East is well known to have extensive PCN networks. I was curious to find out.
Thanks to Steve, the one with the super 'zinged' Dahon Broadwalk, proposed this stimulating ride with scenic routes and some challenging slopes. As I started following the group, "Wow" I told myself, "this is refreshing!". I was pleasantly surprised by the well layout of the PCNs – e.g. a clearly separated cycling path and pedestrian path, wide share cycling path + pedestrian path.Only in a few occasion our group of 20+ need to slow down and carefully share the pedestrian pavement where is become narrow. The most challenging part, and also the most scenic area is within the ZhengHua Park, with fun slopes up and down. Some of us have to push up but everyone made it in the end.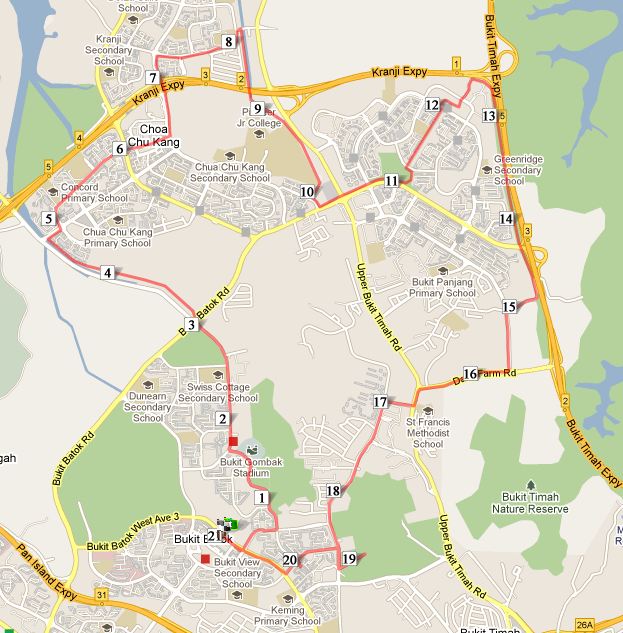 Here is the description from Steve about the route:
A nice cozy ride along the Bukit Gombak/Choa Chu Kang/Bukit Panjang PCN. Along the way we can check out some nice scenery at Little Guilin and also some "fun" slopes along the Pang Sua PCN at Bukit Panjang. After that, we will head to the Bukit Batok Nature Park, which has a beautiful small lake that was once a quarry. Finally, we will have breakfast/lunch at a large kopitiam nearby.
More writeup :
http://smallwheelsbigsmile.blogspot.com/2011/05/ride-around-bukit-batok-cck-and-pengsua.html